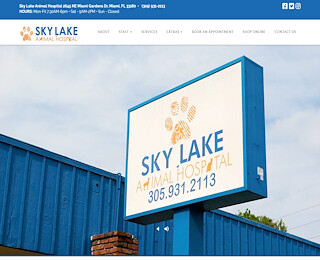 Numerous benefits come from having your pet periodically examined in a pet clinic in Aventura- the difficult process is choosing which one is the best for your pet's health. Pet health experts agree that dogs, cats, and other pets experience a higher level of health when they are treated routinely by a vet for wellness treatments, vaccinations, and urgent care medicine.
If your pet is not already established with a local veterinarian, our staff at Sky Lake Animal Hospital invites you to schedule a pet visit in our clinic to ensure your pet is both healthy and happy.
We're a Full Service Pet Clinic in Aventura
When you trust us with your pet's health, you won't have to worry about being referred out-of-office for difficult or challenging procedures, since we can provide everything your pet needs right here in our facility. Choose Sky Lake Animal Hospital for:
Health maintenance
Pet wellness services
Diagnostics
Dental Care
Surgery
Boarding and day care services
Your Pet's Dental Care
Veterinarians are beginning to see a strong correlation between pet dental care and their overall health. Human medical science has actually brought this issue to light in recent years, with vets following up on multiple reports and information that has made it crystal clear that your pet's oral care is a serious issue.
When you bring your pet in for a wellness visit, we'll examine their teeth and gums, then provide you with a comprehensive plan to care for their oral health in your own home. Taking care of your pet's teeth is a great way to improve their health or maintain your pet's health if they are already enjoying a healthy lifestyle.
Why Choose professional Boarding
You may be tempted to ask a pet sitter to come in to your home to care for your pet while you're out of town; however, our pet clinic in Aventura highly recommends that you ignore the pleas from pet sitters to allow your pet to remain in familiar territory. Your dog or cat will experience a much higher degree of care while being boarded at our facility.
After all, who better to take care of your pet than an actual pet expert? Our staff ensures all boarded pets receive a daily veterinarian checkup, and any necessary med administration. We'll discuss your pet's needs with you in full to ensure they receive the very best care possible while you're traveling.
We're Not Just a Wellness Clinic
If your pet needs an urgent diagnosis or scheduled surgery, there is no better place to call for the procedure than Sky Lake Animal Hospital. Our Dr. Cooper brings a wealth of experience and skill to the table, providing your pet with exceptional care before, during, and after surgery.
Feel free to schedule a consultation with our facility's staff to learn why we are the most trusted pet clinic in Aventura. Be sure to bring your pet in for the initial visit to give us the opportunity to get to know both of you better.