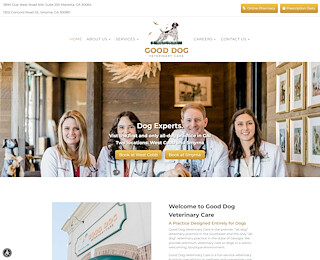 Is your dog sick? Does your dog need medical attention? Every day, we are thankful to work with dogs and to have the gift to look into their eyes, perform physical examinations, and evaluate dogs to reach a diagnosis. Good Dog Veterinary Care is the first dog-only animal hospital in Marietta. We specialize in diagnosing, treating, and healing dogs, and that's why more people trust us to care for their furry friends!
How to Treat a Sick Dog
Our goal is to catch the problems before they get worse. For that reason, we highly recommend that you bring your dog into our clinic routinely for checkups. Good Dog Veterinary Care provides proactive dog care that protects their health, wellness, and longevity. Unfortunately, there are times when we find a problem in its later stages. In cases like these, we will spend the necessary time and effort to give your dog the best chance to overcome or to live comfortably with their condition.
We Treat Our Patients Like Family
In addition to the fact that Good Dog Veterinary Care is the only dog-only animal hospital/veterinarian clinic, people also choose us for their dogs' care because they know that their dogs are going to be treated like family when they are in our care. All of our staff – from top to bottom – has the same goals and the same mentality when it comes to treating dogs. Whether it's a broken leg, an amputation, or full-blown surgery, you can rest assured that your dog is the best hands at Good Dog Veterinary Care.
When a dog comes in, we treat that patient as if he or she is our own pet. We critically examine them from head to tail, and if there is an ailment, we then determine the best treatment. The gifts that our vets and technicians have to read dogs are second-to-none! All of us at Good Dog Veterinary Care have devoted our lives to understanding veterinarian medicine, and caring for dogs is our passion!
Make Good Dog Veterinary Care Your Animal Hospital in Marietta
Just like humans, dogs can get sick, get injured, or develop health conditions that range from mild to severe. And just like humans, dogs can be treated and cared for to achieve better health. At Good Dog Veterinary Care, we thrive on seeing dogs recover and live fulfilled lives, as dogs are supposed to. It's a real joy and a privilege when the dog comes back for follow-up care, and they can then run, play, explore, and do all of the things that dogs are bred to do.
At Good Dog Veterinary Care, you'd be hard-pressed to find a group of people who are more passionate about dogs. We practice the best medicine that we can, knowing that people trust us with their dogs' care, and often, they trust us with their dogs' lives! That is a huge responsibility that we take very seriously at Good Dog Veterinary Care.